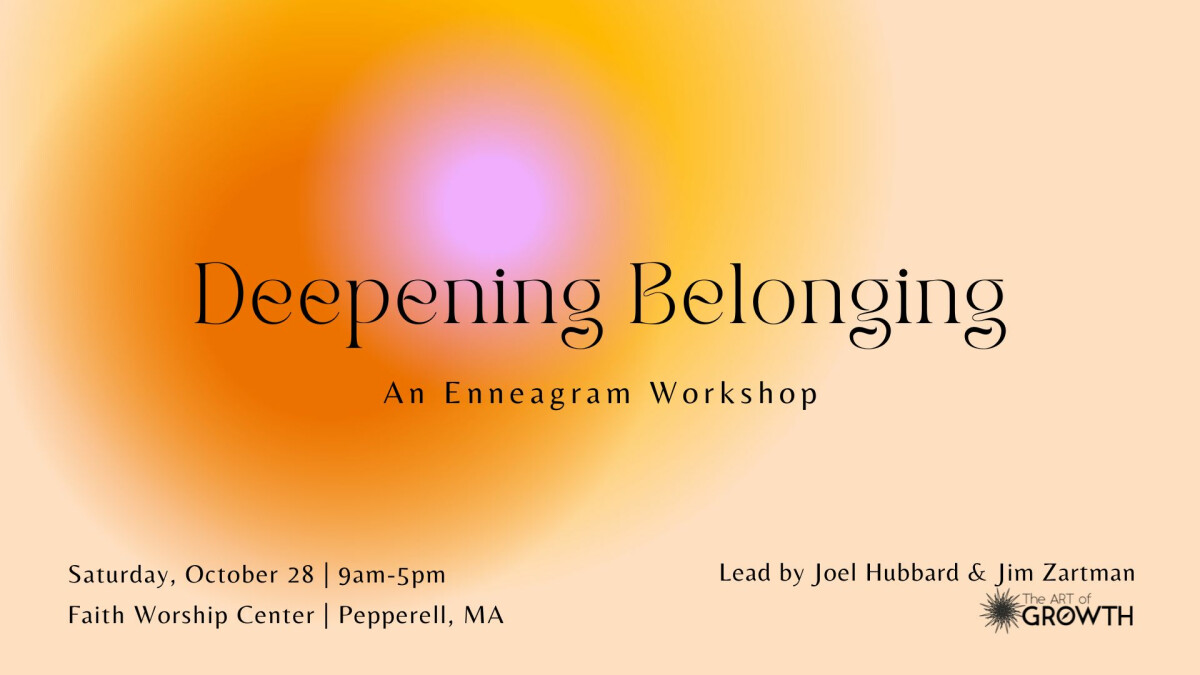 Saturday, October 28, 2023, 9:00 AM - 5:00 PM
Belonging is a topic that is on the forefront of minds. It is the desire and longing we all ache for. But HOW do we belong? What creates belonging?
Join Joel Hubbard, co-founder of The Art Of Growth and Certified Enneagram Coach, at this 1-day workshop to discover just how possible and present belonging is.
At this workshop you will learn how to deepen your sense of belonging through the tool of the Enneagram. Whether you are new to knowing the Enneagram or a longtime enthusiast, this workshop is designed to grow and deepen your understanding of it as a tool for belonging. Gear up for dynamic teaching with interactive content, guided exercises that open your head, heart and spirit. Plus breakout small group sessions that will give you the opportunity to implement and activate what is shared on a personal level.
Workshop includes:
An overview of all 9 Enneagram Types
The 3 Ingredients To Belonging
Panel/Volunteer interaction
Breakout individual and Small Group Sessions
Q&A with Joel
Cost:
$35 per Individual
$60 per Couple (discounted for spouses/partners)
Schedule:
9:00am-12:00pm - Session 1
12:00pm-2:00pm - Lunch Break
2:00pm-3:30pm - Session 2
3:30pm-4:30pm - Session 3

4:30pm-5:00pm - Session 4: Q&A
Childcare will be available if needed.
Although we will be going over the 9 Enneagram types, it would be helpful if you come prepared knowing what type you most identify with - if you do not know your type a great way to start the journey in finding it is to take this FREE online test.
Or schedule a Typing Interview with Joel Hubbard by clicking here: Schedule A Typing Interview
For more information about Joel and The Art of Growth or to schedule a Typing Interview with Joel visit: TheArtOfGrowth.com
Questions about this workshop email